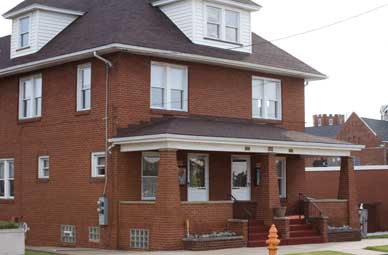 In cooperation with the parents, who are the primary educators of their children and the first teachers of the faith, the parish community, together with the pastor and the Coordinator of Religious Education, has a fully devolved program of Confraternity of Christian Doctrine (CCD).
The program includes grades K through 12. The classes for grades K through 6 meet on Saturday mornings. Grades 7 through 12 meet on Sunday mornings during the scholastic year.
During the summer, the parish also sponsors a week for Catholic Bible School and a week for Italian Culture for the children.
There a continuous series of adult education in the area of Sacred Scripture, Dogma and Morality throughout the year. More information on these programs appears the weekly bulletin.
The parish also promotes the Church's Rite of Christian Initiation of Adults each year, as well as the ongoing programs of Baptismal Preparation, First Eucharist, Reconciliation and Marriage Preparation
The offices, classrooms, and conference rooms, for religious education in the parish, as well as the Parish Archives, are located in the Pope John Paul II Center, the duplex house at the west end of Via Mount Carmel.
For more information, please call the Religious Education Office 330.743.3508.